I just finished this article on Japanese Reactions to Google Streetview entitled Japan: Letter to Google about Streetview.
It posts a partial translation of a letter written by a person named Osamu Higuchi who argues that Google should end its Streetview program in Japan. He sites a series of cultural reasons such as it's rude to take someone's picture without their permission, and that the Japanese everyday lifestyle is not to be shown to people all over the world. He discusses whether people keep their houses tidy or not, whether looking at someone's front gate is peeping or not. Higuchi even argues that the demerits of Google Streetview in Japan were never discussed in the mass media because of the Japanese media's anti-microsoftness.
I wish the translator had also looked at the comments section as well. There are lots of comments from people who completely disagree. Most people said that he was just thinking too much. Some also accused him of having the kind of thinking that keeps Japan separated from the rest of the world, the kind of thinking that presumes some kind of uber-uniqueness of the Japanese people over other country's people (with the fault of not knowing enough about other people in the world to see the similarities).
People who don't know a lot about Japan or don't read a lot of Japanese will probably agree, but we know better don't we. There are already tons of blogs on which interesting Streetview views have been found, a lot of them do not promote the kind of image of Japan that some people in Japan will want to show. Japan is gradually becoming more open and real, and it's about time for Japan to start staring its social problems in the eye and stop hiding them.
What Mr. Higuchi may actually be most concerned with are images caught of high school kids walking down the street together in which the boy has a hand on the girls breast, images of people walking into love hotels and brothels. Some of these places are on major streets, and people living here in Japan see these things everyday. A lot of people here want to continue to portray (and themselves believe) the image of Japan as a pristine, polite nation.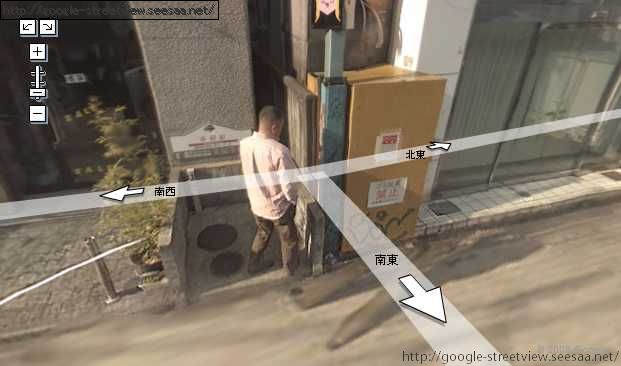 Here is an example of something I often see driving down the street that people like Mr. Higuchi and other people unrealistic about the realities of modern life in Japan don't want you to see. There's a lot of road peeing going on here.
The photo comes from a blog called "Google Map Streetview Collection" it has beautiful pictures, funny pictures, crazy houses, even one that caught a model in the middle of a photo shoot.
I encourage everyone to play with Google Streetview in Japan if you want to know what some of the streets look like. It will also help if you are planning to do some walking tours, because as you probably know, most streets in Japan have no names. It could be useful for finding good landmarks to use on your travels.
I hope Google streetview covers even more of Japan. Anything that will open up and loosen up Japan is very welcome here!